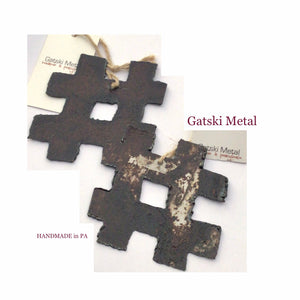 GATSKI METAL HASHTAG
ornament



MADE  in PENNSYLVANIA
….OR HOW ABOUT THINKING OF IT AS A NUMBER SIGN for the math  teacher, accountant or…


They created this fun hashtag ornament with reclaimed metal. We hand draw the pattern on the metal with soapstone and cut it with a hand held plasma cutter.
Each piece will have subtle variations. They are cut by hand and each piece of metal has slight color differences.  The metal is sealed with a water-based enamel.
Care: Wipe clean with a damp cloth.
Approx Size:  4.25" x 4.25"
THESE ARE THE LAST TWO…..