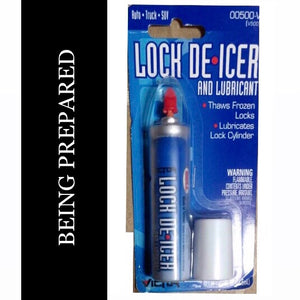 Loch De ICER and  lubricant
IN THE PROCESS OF CLEAN UP I DISCOVERED BEING MORE THAN MINIMALLY PREPARED FOR FREEZING LOCKS…YA ONLYGET BURNED OBPNCE, OR MAYBE TWICE WHEN CAR LOCKS OR CLIENT's PERIMETER DISPLAY WINDOW LOCKS  ARE FROZEN .



Bell Lock De-Icer is a winter weather necessity that eases the frustration of frozen locks. This pressurized, aerosol de-icer is designed to thaw frozen lock mechanisms and lubricate the lock cylinder to restore it to working condition without damaging the components of the lock. This special lock de-icer and lubricant formula enters the lock through a unique and slender pressurized injection nozzle that pinpoints inside the keyhole and targets the tumblers found within. It's easy to use by simply pressing to release the formula. It won't damage the original paint of the vehicle, so there's no need to worry. This de-icer is compact and conveniently fits inside most consoles and glove boxes.
STORE CLOSING SUPPLY SALE